ProInCon has the expertise and services to meet any risk management challenge:
Insurance Analysis for Lenders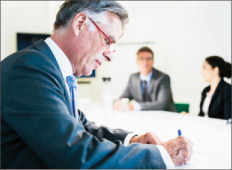 As a financial institution offering loans to individuals or corporations, you will want to ensure that the security property is adequately protected in the event that an accident results in damage to, or destruction of the property. Insisting that a proper insurance program is in place allows a reasonable degree of assurance that the borrower will still be able to meet the obligations of the loan agreement, even if there is significant damage or loss to the property.
Our risk analysts assist you with insurance-related issues in the following areas:
drafting of standard insurance requirements that will form part of the loan agreement
advising you as to what other insurance coverages may be required for borrowers who are faced with out of the ordinary insurance exposure
assisting you with negotiations, where a borrower may ask for special consideration to modify standard insurance requirements while the loan agreement is still being drafted
performing detailed reviews of insurance documentation submitted on a borrower's behalf, and following up with the borrower or their representative to ensure that the insurance is satisfactory to you
providing insurance tracking services to ensure that renewal policy documents continue to meet your requirements for the entire term of the loan
Insurance Program Audits
Insurance program audits provide you with a detailed analysis of a corporate insurance program, including the scope, amounts and quality of coverage for insurable operational risks.
We will include the following specific details in our program surveys:
to provide a seamless Insurance Program by integrating policies and coverage
through the use of deductibles and self-insurance methods, assist in choosing the most cost-effective plan
consider exclusions, warranties or other terms that may affect the policy holder's ability to receive a full indemnity
examine the adequacy of the limits for a worst-case loss scenario
Our audit will also convey an independent opinion on every component of your insurance coverage, cost and quality.
Insurance Acquisition and Tendering
To help you gain a competitive edge in insurance costs and quality during the procurement process, we will perform a thorough analysis of operations, assets and income exposures to determine your insurance needs. We will then draft detailed insurance specifications and prepare information packages for insurance providers. We can also assist in the administration of the agent/broker selection process.
All submissions from providers will be reviewed and a final report provided. As a final step, we will administer the implementation process and oversee contract issuance to ensure compliance with the tender specifications.
Lease Review and Contract Analysis
Many contracts have clauses that transfer responsibilities and potential liabilities to you. These clauses are generally buried in the verbiage of the contract and not being cognizant of them, while negotiating the draft of your contract, may result in you assuming some unforeseen liabilities that may not be covered by your insurance program. This may seriously impair your financial stability.
These clauses can be found in any contract, but are most commonly found in lease agreements. Commercial landlords frequently pass along certain costs and obligations regarding insurance to the tenant. Leases, when properly drafted, can be excellent risk management tools for transferring risk and insurance obligations. We will provide an analysis of the wording of your lease – from a risk and insurance standpoint – and assist in drafting language that is specifically suited to your situation.