A glossary of commonly used general insurance and risk management terms.
---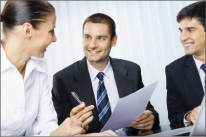 A B C D E F H I J L M N O P Q R S T U V W
BAILEE – In contract and property law one to whom goods or property are entrusted for a stated purpose. Can be either gratuitous (for no consideration) or for hire (for consideration).
BASIC RATE – The standard charge for a given type of risk.
BI/PD – Bodily Injury / Property Damage Liability Coverage.
BID BOND – A bond condition that if the contract is awarded to the contractor, he will, within a specified time after the award, sign the contract and furnish the required performance and/or payment bonds. If the contractor fails to sign the contract or fails to furnish the required bond or bonds, there is a default under the bid bond and the measure of damages for which the Bonding Company is responsible will usually be the difference between the bid of the contractor and that of the next higher bidder not exceeding, however, the amount of the bid bond.
BINDER – A temporary or preliminary agreement, which provides coverage until a policy can be written or delivered.
BLANKET POLICY (INSURANCE) – Insurance of two or more items, or locations, in one aggregate sum insured without separate amounts for each item.
BODILY INJURY – Term used in Auto and Liability policies meaning physical injury, including sickness, disease, mental injury, shock, or death.
BODILY INJURY LIABILITY – Pays when an insured person is legally liable for bodily injury or death caused by your operations or arising from your premises. This coverage also pays for your legal defense if you are sued.
BROKER – An independent person or firm who acts on behalf of the insured in placing business with the insurance company. Responsible for the collection of premiums but has no authority to give coverage on the insurance company's behalf without their specific agreement. Compensation is on a commission basis.
BUILDER'S RISK INSURANCE – Insurance coverage on property under construction including loss to buildings, including machinery and equipment, in course of construction, and materials incidental to construction.
BURGLARY – Unlawful removal of property from premises involving visible forcible entry.
BUSINESS INTERRUPTION – Insurance against business expenses and loss of income resulting from fire or other insured perils.
BY-LAW – A law or ordinance dealing with matters of local or internal regulation made by a local authority or by a corporation or association.
BY-LAW ENDORSEMENT – An endorsement explaining how a particular insurance company deals with a claim which is affected by a local by-law.