A glossary of commonly used general insurance and risk management terms.
---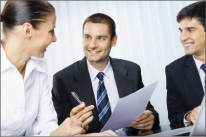 A B C D E F H I J L M N O P Q R S T U V W
PARTIAL LOSS – A loss under an insurance policy which does not either (1) completely destroy or render worthless the insured property, or (2) exhaust the insurance applying thereto.
PERSONAL INJURY – Under coverage provided by a Commercial General Liability Personal Injury is defined as injury, other than bodily injury, arising out of false arrest or detention, malicious prosecution, wrongful entry or eviction, libel or slander, or violation of a person's right to privacy committed other than in the course of advertising, publishing, broadcasting or telecasting.
PERSONAL PROPERTY – Any property of an insured other than real property.
PERSONAL PROPERTY FLOATER – A broad policy covering all personal property world-wide, including insured's own premises.
PHYSICAL DAMAGE – A generic term indicating actual damage to property.
PHYSICAL HAZARD – The material, structural, or operational features of the risk itself, apart from the morale or moral hazards of the persons owning or managing it.
POLICY – Legal document issued to the insured setting out the terms of the contract of insurance.
POLICY LIMIT – The maximum amount a policy will pay, either overall or under a particular coverage.
POLICY PERIOD (OR TERM) – The period during which the policy contract provides protection, e.g., six months or one or three years.
POLICYHOLDER – The person (or persons) whose risk of financial loss from an insured peril is protected by the policy.
PREFERRED RISK – An insurance classification indicating a risk that is superior to the average risk on which the rate has been calculated and thus eligible for a reduced rate.
PREMISES – The particular location of property or a portion thereof as designated in a policy.
PREMIUM – The amount of money an insurance company charges for insurance coverage.
PRIMARY COVERAGE – Covers from the first dollar, perhaps after a deductible, as distinguished from excess which pays only after some primary coverage has been exhausted.
PROFESSIONAL LIABILITY INSURANCE – Liability insurance to indemnify professionals, doctors, lawyers, architects, etc. for loss or expense resulting from claim on account of bodily injuries because of any malpractice, error, or mistake committed or alleged to have been committed by the insured in his profession.
PROHIBITED RISK – Any class of business, which an insurance company will not insure under any condition.
PROOF OF LOSS – A formal statement made by the insured to the insurance company regarding a loss. The purpose of the proof of loss is to place before the company sufficient information concerning the loss to enable it to determine its liability under the policy.
PROPERTY DAMAGE LIABILITY – Pays when an insured person is legally liable for damage to the property of others caused by your operations. This coverage also pays for your legal defense costs if you are sued.
PROPERTY INSURANCE – Property Insurance indemnifies an insured whose property is stolen, damaged, or destroyed by a covered peril. The term property insurance includes direct or indirect property losses covered in several lines of insurance.
PROTECTION –
Term used interchangeably with the word "coverage" to denote the insurance provided under the terms of a policy.
Term used to indicate the existence of fire-fighting facilities in an area known as a "protected" area.