A glossary of commonly used general insurance and risk management terms.
---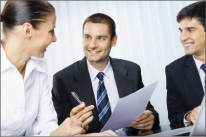 A B C D E F H I J L M N O P Q R S T U V W
EARTHQUAKE INSURANCE – Insurance covering damage caused by an earthquake as defined in the contract.
EFFECTIVE DATE – The date on which an insurance policy or bond goes into effect, and from which protection is furnished.
EMBEZZLEMENT – The fraudulent use of money or property, which has been entrusted to one's care.
EMPLOYERS LIABILITY INSURANCE – Coverage against common law liability of an employer for accidents to employees, as distinguished from liability imposed by a workers' compensation law.
ENDORSEMENT – Amendment to the policy used to add or delete coverage. Also referred to as a "rider."
ERRORS & OMISSIONS INSURANCE – Insurance covering the legal liability of professionals not usually involved with the care of the human body such as architects, engineers, accountants.
EXCESS INSURANCE – Insurance which does not participate until all other similar insurance on the same subject is exhausted, or until the loss exceeds a previously agreed upon amount. Where there are two policies at risk and both contain a provision that they are "excess to all other insurance," the problem is resolved by the general "guiding principles." This is usually interpreted so that each insurer contributes pro rata to the loss.
EXCLUSIONS – Certain causes and conditions, listed in the policy, which are not covered.
EXPIRATION – The date upon which a policy will end.
EXPOSURE – Degree of hazard threatening a risk because of external or internal physical conditions.
EXTENDED COVERAGE (EC) – A common extension of property insurance beyond coverage for fire and lightning. Extended coverage adds insurance against loss by the perils of windstorm, hail, explosion, riot and riot attending a strike (civil commotion), aircraft damage, vehicle damage, smoke damage and volcanic eruption.